Creative
Dawn Matheson
I am an interdisciplinary artist with a socially-engaged practice specializing in video and sound art. I have directed participatory media-based projects for over 20 years with works featured at festivals, conferences and national media outlets… plus in forests, train stations, fountains and alleyways throughout Canada. Through inclusive artistic practices, I hope to interrupt civic and social spaces with unexpected moments of beauty, curiosity and joy and to dismantle barriers between individuals by creating alternative stories that build compassion and kinship. Find more about my work at thiswasnow.com
Richelle Forsey
Website Artist

Richelle Forsey is an interdisciplinary process-based creator and writer. Forsey's practice is rooted in storytelling, the discourse of images, aleatory outputs, and ultimately making works for slow looking – a practice akin to Pauline Oliveros' Deep Listening.
Forsey is a founding member of the photography collective TLR Club and the graphic artist for the indie experimental music label Aural Tethers. She resides in Guelph, Ontario, and is the Photography Technician at the University of Guelph.
You can see more of Forsey's work at www.richelleforsey.com
Jeff Bird
Soundtrack Composer
Jeff Bird is a musician, composer, sonic explorer as well as a performance artist and experimental filmmaker.
Jeff's father worked in the lumber business most of his life and instilled in Jeff a great respect and love of all things wood. Alive and milled.
Jeff learned from his father that if you see a nice stand of trees you should go and hang out with them.
Thanks to Adam Bowman for drumming on the sculpture.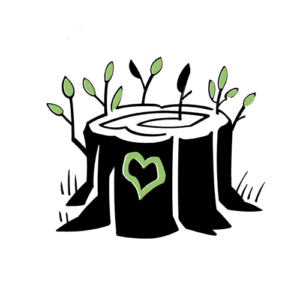 Partners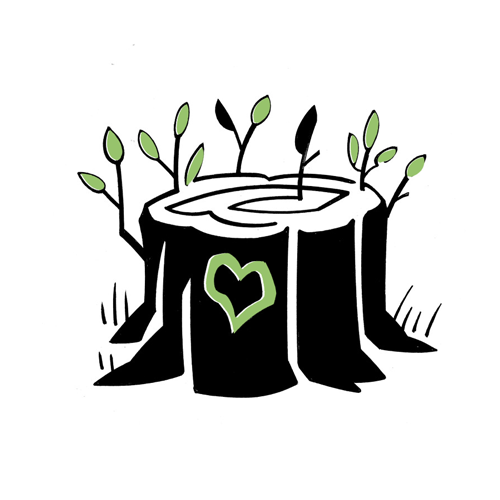 Justine Richardson, The Arboretum Director
Rebecca Skellhorn, Wellness Educator
John Reinhart, Grounds Manager
Tree Team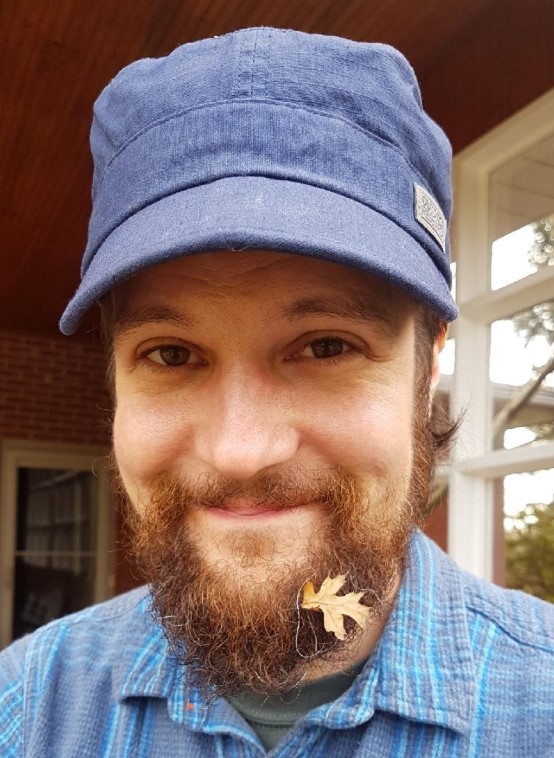 Sean Fox
Tree Team
Sean always seems to find himself among the trees. After growing up exploring the woods and tending his own garden, Sean has continued to see his life woven into the forest through nearly 30 years of work and volunteer activities at numerous non-profit tree & conservation organizations, several plant nurseries and the University of Guelph Arboretum. Away from work, Sean enjoys hiking and botany and has had the joy of witnessing every species of tree indigenous to Ontario, whether common or rare, in their wild and natural habitats across the province.
MEMONA HOSSAIN
Tree Team
Memona is a mother, community activist and PhD candidate in Ecopsychology. She is a tree lover who is always grateful to learn through the wisdom of trees.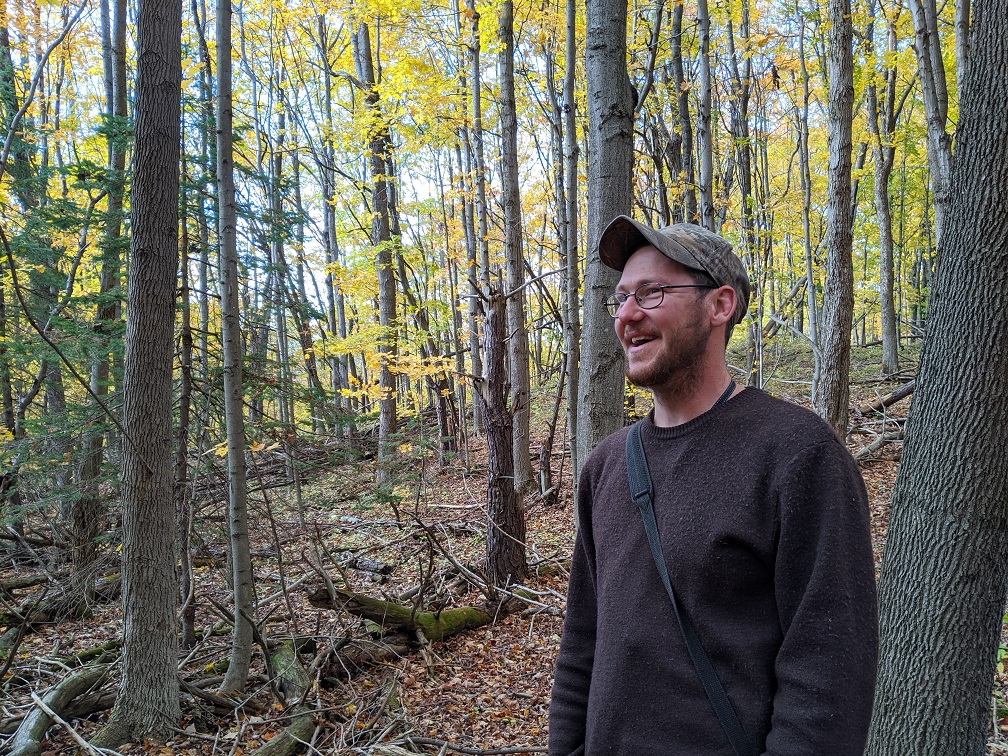 byron murray
Tree Team
byron (>he/him+) grew up walking, singing and climbing trees along the Etobicoke Creek. The saving grace of an alternative school kept him in Southern Ontario until he graduated high school and set out to spend the next four years exploring the continent making music, writing zines, and learning about the natural world. He has always cared for and strived to defend the land base.

Employed at the Guelph Outdoor School since 2013, byron wanders the Eramosa River valley sharing his knowledge and passion for the natural world. byron is known for his infectious enthusiasm and love for the land. He appreciates the magic and mystery of wilder places and is guided by a deep sense of wonder and curiosity. He is inspired by thunderstorms, decolonization, and rivers.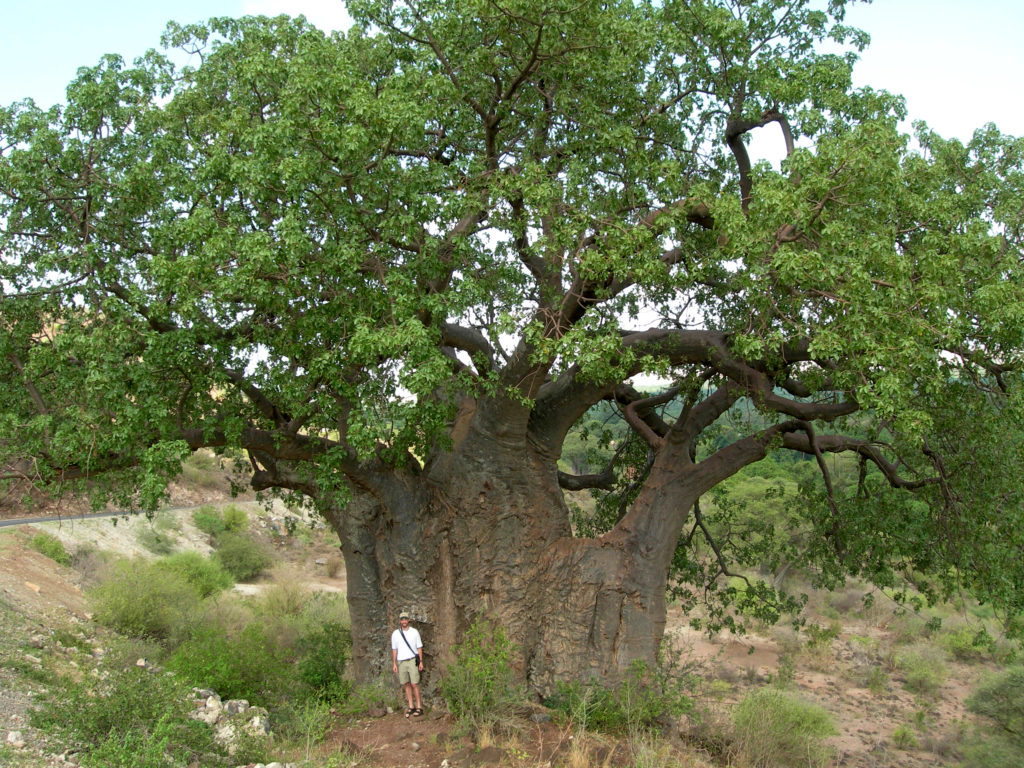 Chris Earley
Tree Team
Chris is the Interpretive Biologist for the University of Guelph Arboretum and sharing the natural world with others makes him happy. He loves meeting trees and observing their connections with the other beings in their ecosystems.
Gregor Kennedy
Tree Team Poet
Gregor Kennedy would like best to describe himself as a poet…someone attentive to beauty and mystery, particularly in nature. As a former Jesuit, his advanced degrees in philosophy and theology have sharpened his love of asking the kind of questions that open up growth in freedom. His spirituality is Creation-based, taking seriously the joys of being embodied/incarnate in a world full of beauty and challenge. He is a Spiritual Director and sometimes farmer at Ignatius Jesuit Centre in Guelph. Walking is his favorite way of getting around and he enjoys playing guitar when he sits down.
Mwangi Wa Wairimu
Tree Team
Growing up in Kenya, Mwangi remembers planting anything that would grow, from trees, to seedlings, to corn and beans. He thinks it was a way of trying to attach himself to the land that we were made to think we didn't belong to. Fast forward thirty years later and Mwangi was planting trees in every open space on the boulevard in front of his house in Guelph, Ontario. To Mwangi, planting a tree has always simply made him feel at ease. It has grounded him to places and lands that may feel foreign and helps to make each place feel more like home.
Mwangi is the University of Guelph Grounds Lead Hand and will be lead planter for a Tree Wellness Circle on campus linked to this project.
Advisors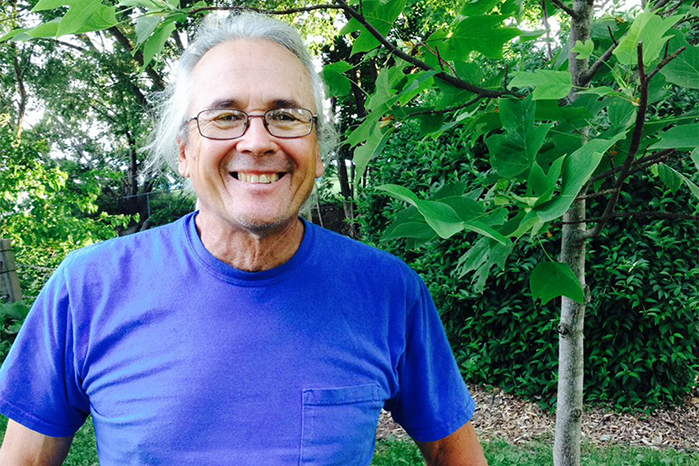 Elder Peter Schuler

Elder Peter Schuler is a grandfather and Elder of the Mississaugas of the Credit and a member of the Minweyweygaan Midewin Lodge in Manitoba. An amateur writer and artist, Peter tries to pass on traditional Ojibwe teachings through storytelling, art and craft making. Much of his days are spent in the forest.
JD Derbyshire
Mad Artist Advisor

JD (they/them) is a writer, comedian, mad activist, performer, playwright, theatre maker, director, inclusive educator and innovator residing in Vancouver, BC.
They provided guidance for Matheson during the research phase in creating with mental illness rather than overcoming or concealing it. Mad Pride focuses on expressing the unique ways people experience the world in terms of making meaning, developing communities, and creating culture.